Back to all posts
Posted on
Grade 7 Orientation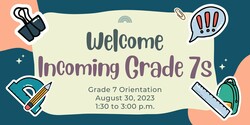 Dear Parents and Guardians of Incoming Grade 6 Students,
We hope you are looking forward to your summer break! As we prepare for the upcoming school year, we would like to warmly welcome your child as they transition from Grade 6 to Grade 7 at our school. We are hosting a Grade 7 Orientation on August 30, 2023, to ensure a smooth and successful transition.
Grade 7 Orientation Details:
Date: August 30, 2023
Time: 1:30 to 3:00 p.m.
Location: Sherwood Heights Junior High
During the orientation, your child will have the opportunity to:
Meet their teachers and classmates
Familiarize themselves with the school layout and facilities
Learn about the expectations for Grade 7
Get their locker and lock
We strongly encourage your child to attend this orientation, as it is an excellent opportunity to become acquainted with their new school environment and make new friends before the school year begins.
If you have any questions or concerns, please do not hesitate to contact us.
We look forward to meeting your child and welcoming them to our school!